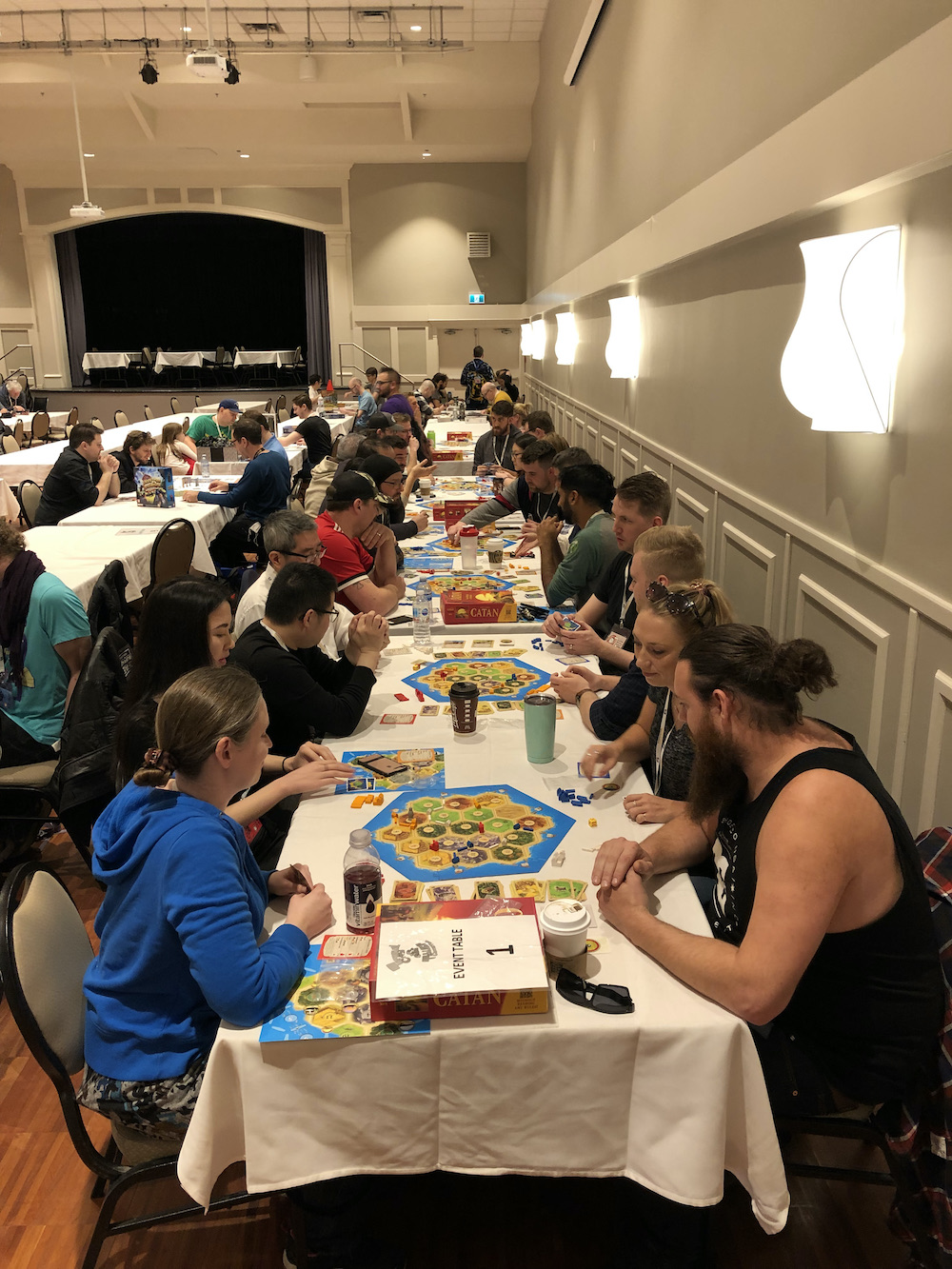 Catan Championship
2024 National Qualifier
We are excited to once again host a Catan Championship 2024 National Qualifier on Saturday, March 16 at TCTC 2024.
The Qualifier will see players compete in preliminary games with the top 16 advancing to the semi-finals. The 4 semi-final winners advance to the finals where one game is played to determine the winner.
You could win awesome prizes, including:
Top 16 players (Semi-Finalists) each get 1 Catan Scenario: either an Oilsprings, a Frenemies, or Geographies.
Top 4 players will each get 1 Catan: High Priests of the Inkas Scenario.
The Winner will receive 1 Catan: Cologne Cathedral Scenario, a Clay Robber, and a guaranteed seat at the 2024 Catan National Championship (location TBA).
How do I register?
You must purchase a ticket for TCTC 2024 (either Full Weekend or Saturday-Only). Click here to purchase your ticket.
Once you have your ticket, you'll get added to our Sched. Once your Sched account is active, you can sign up for the Qualifier.
Playoffs .Game 1 at 10 am, Game 2 at 11:30am, Game 3 at 1 pm.
Semifinal Game. Top 16 players from Playoffs. Game at 3pm.
Finals. Top 4 players from Semifinal. Game at 4:30pm.
There is a waitlist! If you are still waitlisted, please show up at the event start time. If there are no-shows you can fill their spot.
Eligibility
All participants must be Canadian Citizens/Permanent Residents and be 18+ years of age by the date of CATAN Nationals. Winners of 2023-2024 season Qualifier Tournaments are not allowed to play in additional Qualifier events leading up to the 2024 National Championship. Please contact Catan Studio at op@catanstudio.com if you have questions regarding these policies.
Please read here for the official tournament rules, player responsibilities, and code of conduct.